Gastroenterologists in
Cinco Ranch, Texas
If you're looking for gastrointestinal relief in Cinco Ranch, visit Gastro Health & Nutrition – Katy today! Our staff and physicians can treat issues experienced with Crohn's Disease, GERD, IBD, Fatty Liver Disease Treatment, and more! Let us discuss in-depth treatment plans that will fit your lifestyle. 
Our staff will provide you with realistic options you can choose from. The first appointment with us is always the best appointment! Here, we will discuss with you your family and personal health history, as well as symptoms, your previous treatments, and current medications. Understanding your body, habits, and lifestyle is the best way we can pin down and provide you with the resources and treatment you need to put you back on the road to your regular life.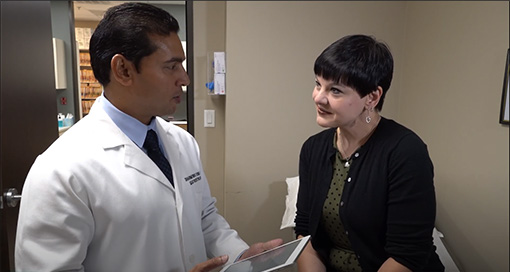 Complete Digestive Care in Cinco Ranch, Texas
Gastro Health & Nutrition – Katy provides exceptional digestive care to residents of Cinco Ranch and surrounding areas. Rather than just getting you in and out of the door, our staff and physicians will work to help identify, treat, and help you understand how to manage your gastrointestinal issues by making changes to your lifestyle. Our physicians, Dr. LaCamera and Dr. Verma are board certified in Gastroenterology and Hepatology, and our expert staff offers exceptional care in a comfortable environment you can rely on. Contact us today for all of your gastroenterology needs.
Signs It's Time To Visit a Gastroenterologist
Are you nervous about heading to the gastroenterologist? You're not alone. If you are experiencing issues that persist, rest assured you can find relief with treatment plans recommended by experts at Gastro Health & Nutrition. The following signs and symptoms can take a toll on your overall health and well-being if not left unaddressed for an extended amount of time.
Unexplained changes in bowel habits, including diarrhea, constipation, and blood in the stool

Gastroesophageal reflux disease (GERD)

Frequent or severe heartburn

Inflammatory bowel disease (IBD), which includes Crohn's disease and ulcerative colitis

Irritable bowel syndrome (IBS)

Sudden or severe abdominal pain

Pancreatitis

Hemorrhoids

Ulcers
If you have unexplained or frequent digestive issues, such as abdominal discomfort, changes to your bowel habits, or any of the above, don't fret. Call us at (713) 429-4550 or set up your first appointment today! We provide care and treatment plans you can rely on.