Services
Colonoscopy Procedure Instructions
A representative from Memorial Hermann Surgery Center Kingsland will contact you the day before the procedure with pre-registration, time of arrival and facility pricing (if applicable). Please remember that we require 72-HOURS notice of cancellations or rescheduled appointments. A fee of $45.00 will be charged for last minute cancellations.
Arrange for a friend or family member to drive you home after the procedure, as you will still be drowsy from sedation, and it is unsafe to drive.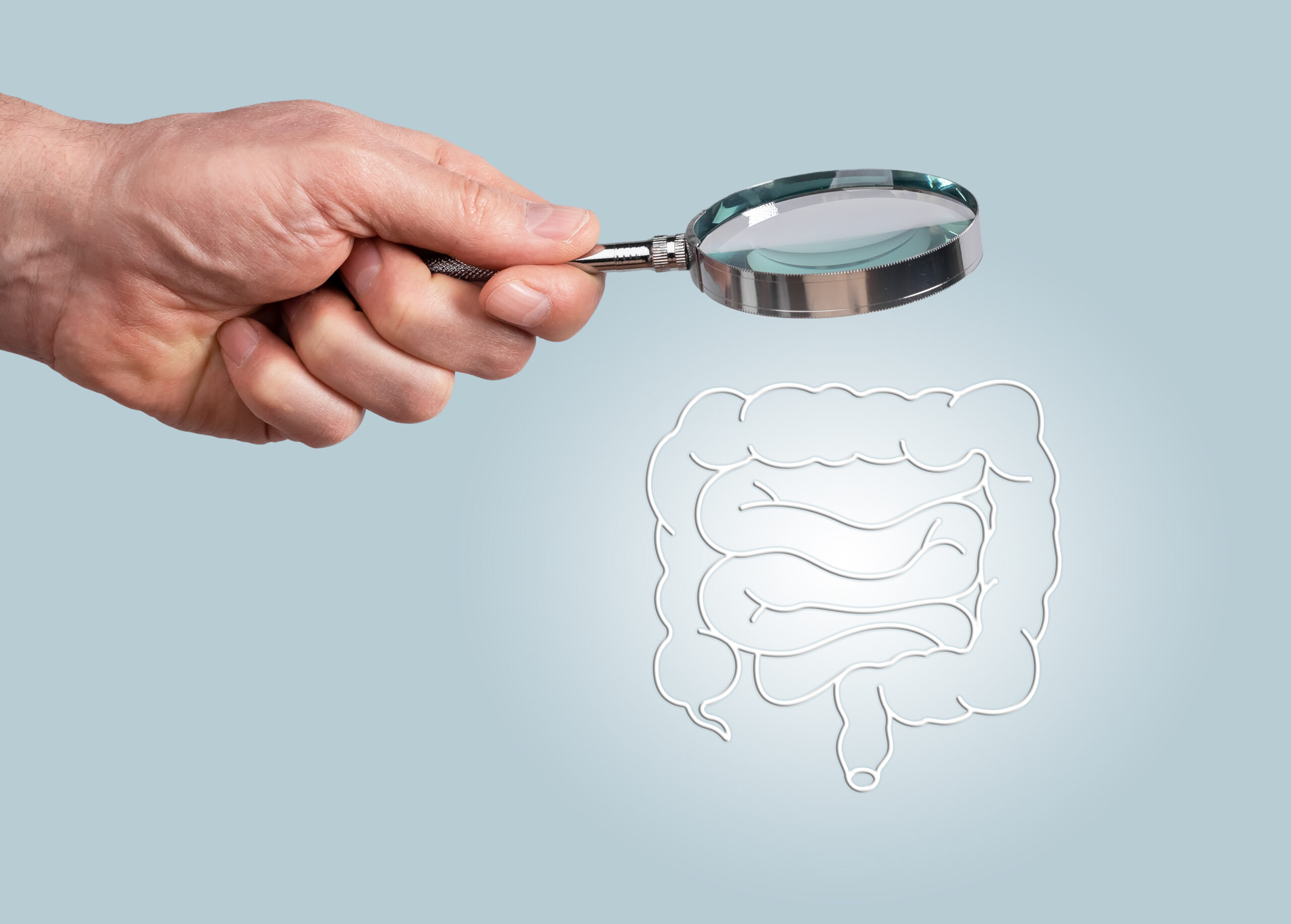 ColoNoscopy Procedure
What Should I do for my Colonoscopy?
7 Days prior to procedure STOP: Iron supplements, Vitamins containing iron, Fish oil, Vitamin E.
5 Days prior to procedure STOP: PLAVIX (Clopidogrel, Effient, Cilostazol, Warfarin (Coumadin)
3 Days prior to procedure STOP: Xarelto
2 Days prior to prior to procedure STOP: Aspirin 81mg.
DIABETIC PATIENTS: Take only ½ of your insulin dose the evening before. NO diabetic pill or insulin the day of your procedure.
THE MORNING OF THE PROCEDURE:  Take your high blood pressure, any heart, lung seizure, and psychiatric medication(s) with a sip of water.
***IF YOU ARE ONLY HAVING AN EGD DO NOT EAT OR DRINK ANYTHING AFTER MIDNIGHT***
***IF YOU ARE HAVING EGD AND COLONOSCOPY PLEASE FOLLOW COLONOSCOPY PREP INSTRUCTIONS***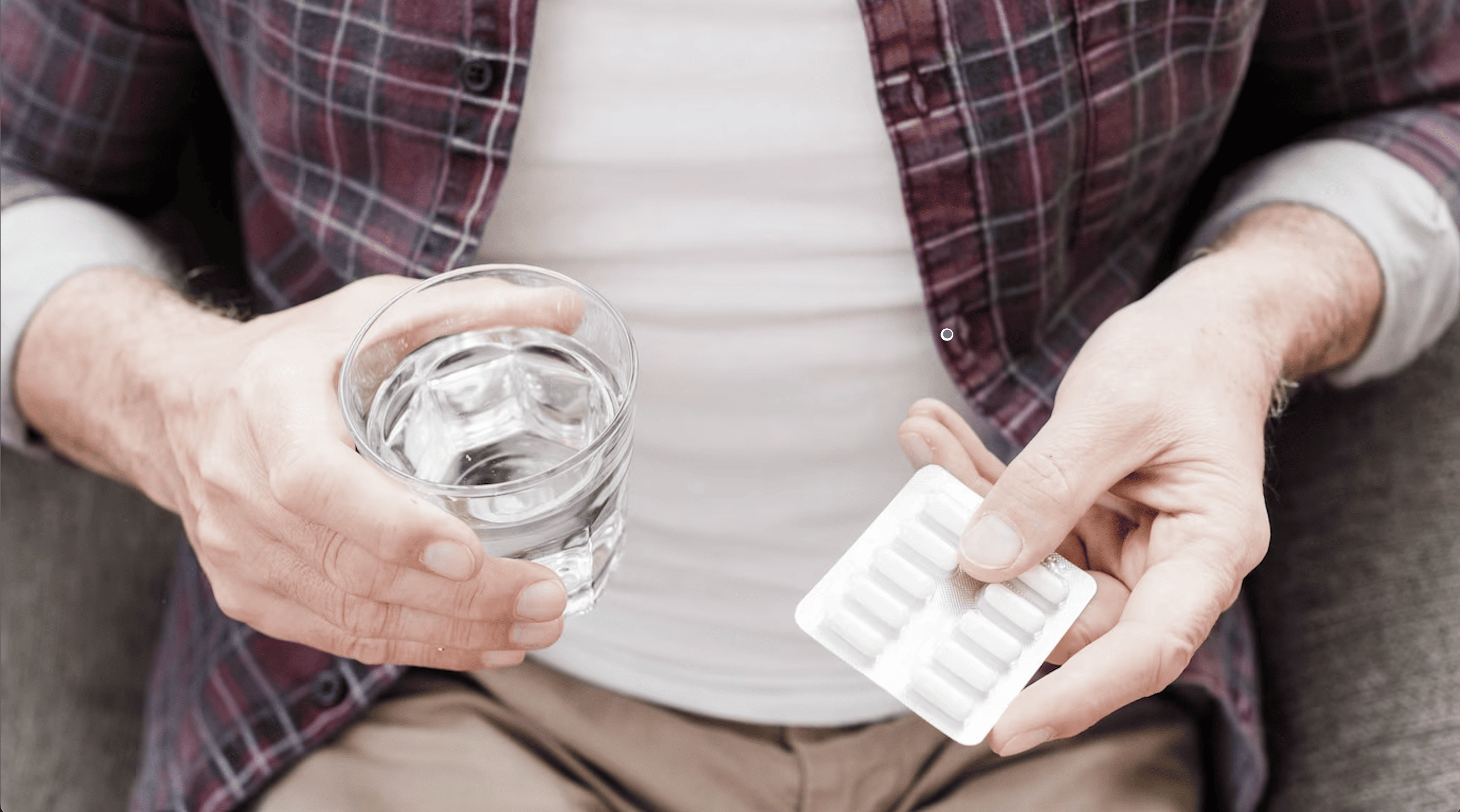 SUTAB Instructions:
5 DAYS PRIOR to your procedure, eat a LOW RESIDUE DIET.
FOODS TO AVOID: Whole grain products, nuts, seed, fruit and vegetables with skin, popcorn, red meat.
1 DAY PRIOR to your procedure, eat only a CLEAR LIQUID DIET.
CLEAR LIQUID DIET INCLUDES:
Water
Clear fruit juices without pulp (apple, white grape, white cranberry, lemonade)
Clear carbonated and on-carbonated soft drinks or sports drinks
Store-Bought and >99% fat free broth (Chicken, beef, vegetable, or bone broth)
Popsicles or gelatin (such as Jell-O) NO RED OR PURPLE
Coffee or Tea (without milk or cream)
One day before your procedure:
DO NOT drink milk
DO NOT eat or drink anything colored red or purple
DO NOT drink alcoholic beverages
1 DAY PRIOR to your procedure, you should also TAKE THE COLON PREP MEDICATION.
1. YOUR PREPARATION –
       Open 1 bottle of 12 tablets
2. DOSE 1 – ON THE DAY PRIOR TO COLONOSCOPY between 6-7 pm the night before your procedure.
Fill the provided container with 16 ounces of water (up to the fill line).  Swallow each tablet with a sip of water and drink the entire amount of water over 15 to 20 minutes.
IMPORTANT: If you experience preparation-related symptoms (for example, nausea, bloating or cramping) pause or slow the rate of drinking the additional water until your symptoms diminish.
3. DRINK ADDITIONAL WATER
Approximately 1 hour after the last tablet is ingested, fill the provided container again with 16 ounces of water (up to the fill line) and drink the entire amount over 30 minutes.
4. DOSE 2 – DAY OF COLONOSCOPY
The morning of the colonoscopy (6-8 hours prior to the colonoscopy and no sooner than 4 hours from starting Dose 1) open the second bottle of 12 tablets and repeat STEP 1-STEP 4 from DOSE 1.
IMPORTANT: You must complete all SUTAB tablets and required water at least 6 hours before colonoscopy.
What Should I Expect?
You will develop diarrhea after drinking the preparation. Plan to be near to a bathroom.
This is normal as it means the medication is working to clear stool from your colon.
Mild bloating and mild abdominal cramps.

 

Drinking the prep medication more slowly and over a longer period of time can help alleviate these symptoms.
A successful colon prep will cause you to have clear yellow ("tea-colored") liquid stools.
Please finish your preparation regardless of your stool color.
IMPORTANT: If your stools are not clear yellow ("tea-colored"), you will need to drink 10 ounces of Magnesium citrate (lemon flavor). It is available over the counter
6 HOURS BEFORE your procedure, you should STOP DRINKING ALL CLEAR LIQUIDS AND MEDICATION.  This means that you should not have anything to eat or drink 6 hours before your colonoscopy.

Your First and Second Bottles Should Follow the Above Image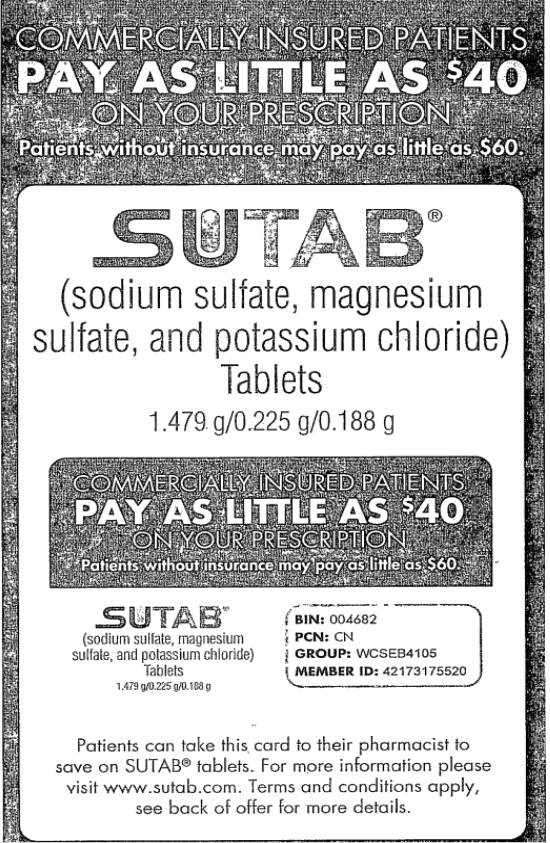 If your insurance does not cover the SUTAB prescription, use this coupon for substantial savings!